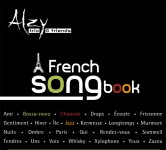 It is with a wink and a nod that we included an English-language title in this very Frenchy album from the Alzy Trio. A hat tip to the Great American Songbook that is chock full of Broadway standards from Ellington and Gershwin, played by all jazz(wo)men worldwide. A tribute from the grand repertoire of French songs that have also been adopted by musicians everywhere.
.
Click on songs titles below to listen to one-minute samples.
Download English booklet with images (16 pages pdf)
Pascal Kober plays a Fender BG-29 acoustic fretless bass (Hartke KickBack 12 amp and Phil Jones Bass Cub BG-100 amp), except on Les pas (fretted custom bass). Thierry Rampillon plays a Godin Multiac ACS-SA and a Godin 5th Avenue CW Kingpin II acoustic guitars (AER Compact 60 amp). Christian Sanchez plays a Godin Multiac Nylon Duet acoustic guitar (AER Compact 60 amp). The whole without any special effect. Recorded, mixed and mastered by Gil Lachenal at Swim Again studio, on November 2010, April, May and June 2011. Graphic art design : Michka Piera. English translations : Cary Bartsch.
Chanson de Maxence (You must believe in spring)
Composer : Michel Legrand
Author : Jacques Demy
3' 34'' • 1967
Pascal Kober : bass
Thierry Rampillon : guitar (solo)
Christian Sanchez : guitar
Composer : Jacques Datin
Author : Claude Nougaro
4' 03'' • 1963
Pascal Kober : bass (solo)
Thierry Rampillon : guitar
Christian Sanchez : guitar (solo)
Invite Jean-Pierre Jackson : drums
Composers : Claude Nougaro, Loïc Pontieux, Laurent Vernerey, Jean-Marie Ecay, Arnaud Dunoyer de Segonzac and Denis Benarrosh
Author : Claude Nougaro
3' 03'' • 1997
Pascal Kober : bass
Christian Sanchez : guitar
Invite Elsy Fleriag : vocal (solo)
Composer : Bruno Martino
Author : Claude Nougaro
5' 31'' • 1960 et 1981
Pascal Kober : bass (solo)
Thierry Rampillon : guitar (solo)
Christian Sanchez : guitar
Invite Jean-Pierre Jackson : drums
Author-composer : Serge Gainsbourg
3' 05'' • 1962
Pascal Kober : bass, vocal
Thierry Rampillon : guitar (solo)
Christian Sanchez : guitar
Invite Tamanga Bévis : vocal
Composer : Michel Legrand
Author : Jacques Demy
2' 50'' • 1967
Pascal Kober : bass
Thierry Rampillon : guitar (solo)
Christian Sanchez : guitar
Que reste-t-il de nos amours (I wish you love)
Composers : Léon Chauliac and Charles Trenet
Author : Charles Trenet
3' 38'' • 1942
Pascal Kober : bass
Thierry Rampillon : guitar
Invite Tamanga Bévis : vocal
Les feuilles mortes (Autumn leaves)
Composer : Joseph Kosma
Author : Jacques Prévert
2' 51'' • 1946
Pascal Kober : bass (solo)
Thierry Rampillon : guitar
Christian Sanchez : guitar
Invite Jean-Pierre Jackson : drums
Composer : Aldo Romano
Author : Claude Nougaro
2' 48'' • 1979 et 1981
Pascal Kober : bass
Christian Sanchez : guitar
Invite Tamanga Bévis : vocal
Tu verras (O que será a flor de terra)
Composer : Chico Buarque de Hollanda
Author : Claude Nougaro
3' 21'' • 1976 et 1978
Pascal Kober : bass
Thierry Rampillon : guitar (solo)
Christian Sanchez : guitar
Invite Elsy Fleriag : vocal
Author-composer : Michael Jackson
3' 25'' • 1982
Pascal Kober : bass
Thierry Rampillon : guitar (solo)
Christian Sanchez : guitar
Invite Jean-Pierre Jackson : drums